So, you want to follow along some of my Flash lessons?
Get 7 days of free unlimited access to lynda.com.
Follow that link and get 1 week of access, see how you like it.
The principles explained in this tutorial can be applied to 3D or Flash animation. For the purposes of this tutorial, I'll deal with six basic static shapes. Using these shapes, you'll be able to animate any line of dialog.
NOTE: The AF system of dialog animation was developed by companies like Hanna Barbera on the TV shows of the 1960s.

The shapes are labelled A, B, C, D, E and F.
NOTE: These letters do not correspond to the sounds of the spoken words; they are simply labels, nothing more. To show you an example of how they would be used, here is an average line of dialog, with the corresponding mouth shapes:

Follow the shapes across the page. You'll notice that the action is very smooth – from closed to open to closed as in "B C D E F" to make "Hello", to A C D B for "My", to E C D C B to make "Friend".
Here is what the completed sequence sounds like:
(voice courtesy of a AT&T Bell Labs).
Most of the work done while speaking is done by the tongue – the lips do quite litte…otherwise, we'd tire of speaking very quickly. Most animators over-think the process, whereas it's really quite simple.
NOTE: It's common to see dialog tutorials talk about "phonemes", and to see illustrations of up to twenty different shapes – this is overkill. It's not necessary to animate the character's tongue or tonsils in order to create believable speech.
The basic approach to dialog is to correctly place closed mouths (the "A" mouth) whenever you hear a B, M, or P. Next in importance is any sound that would need an o-shaped mouth (the E or F mouth). Third, and lastly, is the placement of the chewing action – which can vary from BCDCB to CDB to as little as CB.
Here is a longer example: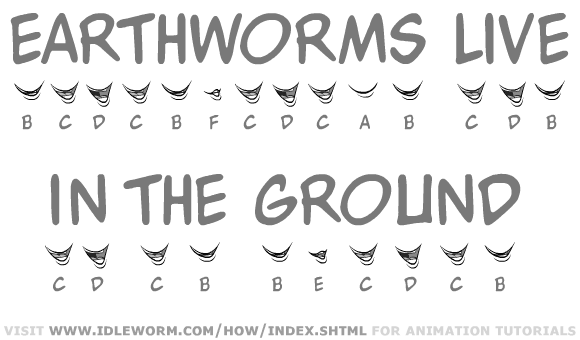 In the above line, the A and F mouths are placed first, as their position is "non-negotiable". If you look between the A and F mouths, you'll see a consistent pattern: C D C and B shapes, opening and closing into one another, hopefully matching each syllable.
Note that in the example above, the words "in the" are described by CDCB – a single, fluid motion suffices for two words. you don't always have to have a separate motion for every word or syllable…be watchful for occasions when you can simplify the sequence of shapes.
To see the effect of the technique, here is a dialog line where all the frames are shape-tweened into one another for a smoother frame-rate (24fps):
(voice courtesy of AT&T Bell Labs).
Think of the C mouth as a transitional shape that smooths out the motion from an A or B mouth to a D mouth.
You will soon become familiar with recurring patterns:
CDCB
CDB
CB
CDCEF
CDEF
CDF
With practice, you'll be able to assign mouth shapes very easily – for example:
"When" = FCDCB
"Hostpitalisation" = CDCACDCBCDBCDCB
"idleworm" = CDCFCDCA