My latest course for Lynda.com has gone online:
'Migrating from Flash to Toon Boom Harmony'
It teaches a Flash animator how their favourite Flash tools and processes correspond to the Harmony equivalent.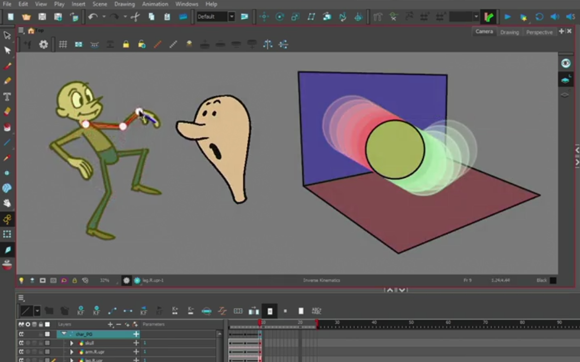 The first twelve years of my animation career (1988 – 2000) were in the traditional hand drawn field, in feature, tv, and games. My subsequent years (2000 – present) have until recently been dominated by Flash.
This makes me an ideal convert to Harmony, as it's aimed at both types of artist.
I learned Harmony for the explicit purpose of teaching it, and did so in my earlier Lynda.com course
'Toon Boom Animate and Harmony Essential Training'.
This first course was a comprehensive introduction to Harmony. However, Harmony has a much steeper learning curve than Flash – a consequence of the greater range of features. Most Flash animators just want to get working with the program; their first priority is to recover all the tricks and techniques they use in Flash, or to find the least painful Harmony equivalent.
When using Harmony at first, I found that my familiarity with Flash was often a disadvantage, as my 'muscle memory' and expectations of Flash behaviour in Harmony kept tripping me up.
I saw several requests online from Flash artists, asking for a course that would simply show the Flash tool, and the Harmony version, thereby cutting down the time they need to become productive with the program. This became the original inspiration my latest course:
'Migrating from Flash to Toon Boom Harmony'.
The course takes common procedures and the core tools, and shows the Harmony version of each. For example, how to create nested animations such as lip synched mouths, how to make puppets, how to line characters, how to use colors, etc.
I recommend that the Flash animator making the leap to Harmony can keep the course open in a tab, on standby for the moments when they hit 'brain freeze' – for example, if they forget the fine points of the line tool, how to ink lines, or how to handle the palette system, they can quickly reference the relevant movie, and keep on working with as little time lost as possible.
I've named each movie in the new course by the relevant Flash tool or process, and not by the Harmony name. This is so that the Flash veteran can quickly find the matching instruction for their familiar Flash methods or tools.
*
Follow this link to get 10 days of free unlimited access to lynda.com. This will also allow you to see the course, for free.
Here are the rest of my Lynda courses.